I'm excited! I've found some more folks of my 'age group!' Even though I feel 20 something most of the time, I'm pretty much, well...not.
So here I am, along with some of my peers. If you're one of us... join in so we can see what you guys are up to as well!
Forty...it's the new, .... uhm... I forget... anyway. Yeah!
Thanks for hosting this Java! You're an inspiration :) Keep us young!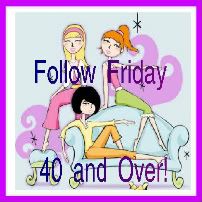 So I will also be adding to this post tomorrow for our regular Friday Bookish memes. And hope to have a lot of fun visiting everyone...as usual :)
Friday 4:30 p.m. ~ As promised....
BEA Edition – What upcoming releases are you most looking forward to?
Well, since I've had my nose so far in the past lately, I'm not paying close enough attention to what is even due out I'm afraid.
I would have said The Wind Through The Keyhole ~ Stephen King (a dark tower book) but that's already out now and I still haven't read it.
I've been terrible about reading any galleys lately. So I haven't even perused the list of whats on deck.
Although Gone Girl by Gillian Flynn comes out next week and that sounds like it has SUMMER READ written all over it!
Synopsis from B&N
Overview
'What are you thinking, Amy? The question I've asked most often during our marriage, if not out loud, if not to the person who could answer. I suppose these questions stormcloud over every marriage: What are you thinking? How are you feeling? Who are you? What have we done to each other? What will we do?' Just how well can you ever know the person you love? This is the question that Nick Dunne must ask himself on the morning of his fifth wedding anniversary, when his wife Amy suddenly disappears. The police immediately suspect Nick. Amy's friends reveal that she was afraid of him, that she kept secrets from him. He swears it isn't true. A police examination of his computer shows strange searches. He says they aren't his. And then there are the persistent calls on his mobile phone. So what did really did happen to Nick's beautiful wife? And what was left in that half-wrapped box left so casually on their marital bed? In this novel, marriage truly is the art of war...
So that's my pick... I'll be anxious to read yours and find out more about the pulse of the bookish future!!