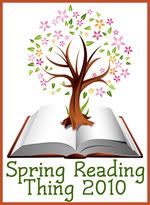 Can't wait to get to some of these. Sometimes I'm so anxious to get to the next book, I don't give my current book the focus it deserves. The one I'm on now, is NOT that kind of book. (it doesn't really deserve it, but I've started it so I may as well keep going)
1) The Host - Stephanie Meyer
2) Sara's Key - Tatiana de Rosnay
3) Looking For Alaska - John Green (he's one of my forever favorites!)
4) Water for Elephants - Sara Gruen
That's all for me. I'm still in the midst of bathroom remodels. ~~ I got the gray paint on the wall and I LOVE it!!! :) The dove gray and white will work out splendidly! Anyway, so I won't have as much time to devote to reading because I won't be able to get to bed early, which is when I DO all my reading.
I'm also in the midst of a landscaping crisis...the crisis is there is none in front of my tiny house and I hate any that is anywhere else around my tiny house...I need a total re-do. And I'm not a plant person...actually I'm a plant serial killer I"m afraid, so I have no idea where to start...except simple.
I even toyed with the idea of simply doing hostas all the way around. pretty cheesy huh?